It was just after 6.30pm on Friday 29th September that I was walking down Village Road, Christleton to attend a village meeting arranged by Chris Matheson our MP. The pavements were free from pedestrians but a never ending stream of speeding cars was approaching me on the road. I reached the assembly hall of Christleton High School and had the choice of many empty seats being fifth to arrive. Any thoughts of a poor turnout to this meeting were quickly diminished as during the next 20 minutes so many villagers arrived that the hall was full to capacity.by the time the meeting started soon after 7.00pm. This no doubt pleased many of the speakers but might have concerned others who feared the threat of residents taking so much interest in the future of their village.

The meeting opened soon after the appointed time of 7.00pm with a welcome and introduction by Chris Matheson MP who agreed that we had every right to try and protect village life. Next came the proposed College of Law Development where there are plans to build 50 houses on the existing car park.The speaker was Nial Casselden from Cheshire West Planning who advised that the planning application had not yet been submitted. When it was submitted he explained the procedures of when and how objections and observations could be made. There were some good intelligent questions and points made from the floor but few were answered such as taking into account the proposed traffic issues which were going to be discussed later. So no feeling of jubilation was felt as the questions were, as you would expect, answered in a very competent manner by a man whose job is planning. There was talk about the large development in Huntington and it was conceded that the hamburger junction was an error. It was also conceded that developers make a lot of money from ruining villages and then walk away when it is all completed with little thought of the consequences. There was a reminder from a member of the Parish Council that in this case it was a Russian oligarch that wished to impose such changes to Christleton.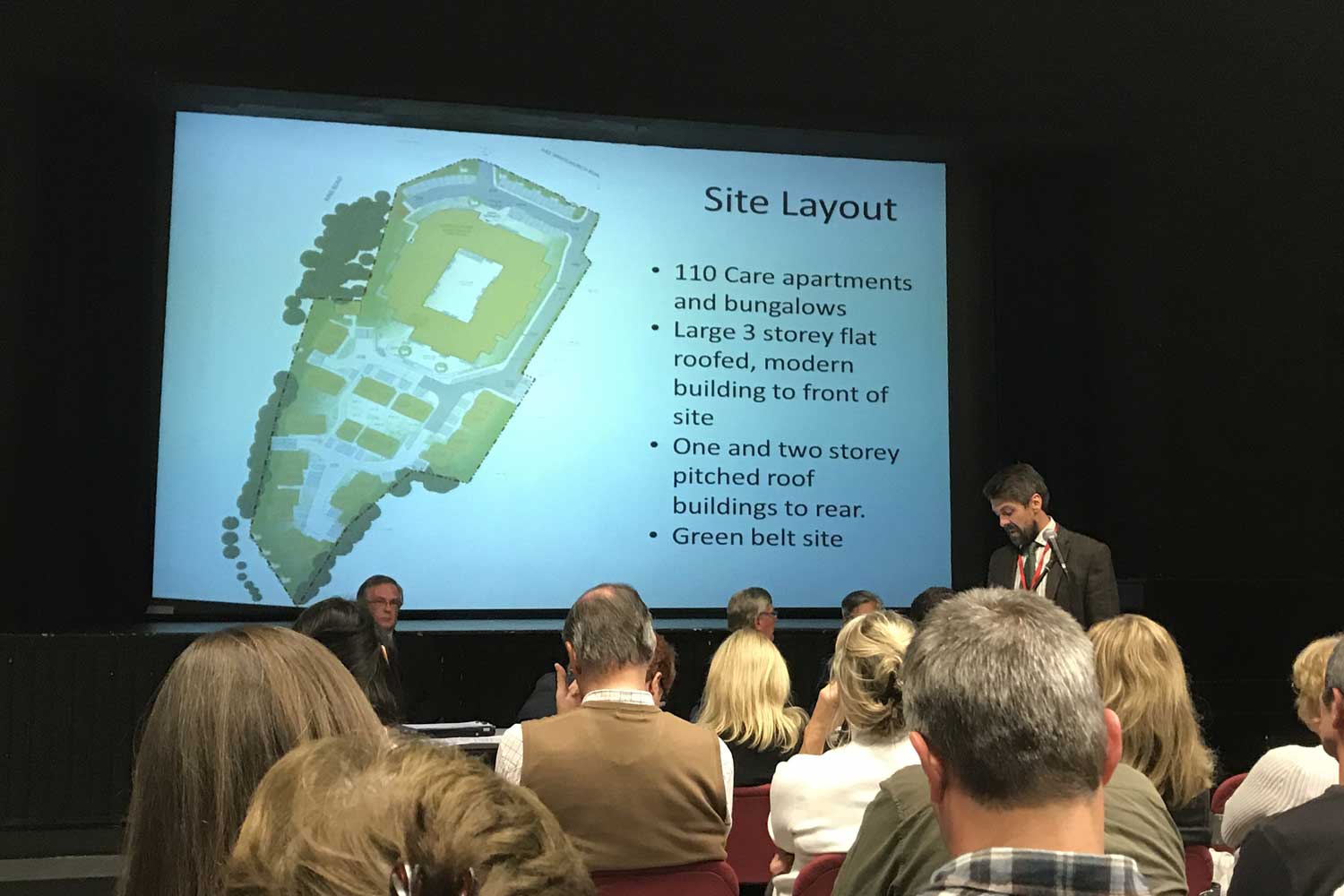 The Beechmoor Nursery planning application was next on the agenda. The Parish Council said that there had been very few concerns from residents. This did not surprise me as according to village rumour I had heard this proposed development had been shelved. There were, however, verbal gasps and groans from the audience when drawings of the architecture of the assisted living complex of 110 care apartments and bungalows appeared on the screen.

The next speaker, I am not sure it it was Kay Parry or Sue Begley, got my full respect as she gave us an update on the hole in A41 at Christleton. She explained clearly the complexities of the repair. The collapse of the road has brought misery to motorists and traffic chaos to the village. I did not fail to hear one residents comment that had the hole been on a road in China it would have been repaired within the week. On the bright side the traffic lights by the hole have made it very much easier to getting out of Pepper Street onto the A41.

Next item on the agenda was an update on the Traffic Issues. The speaker was Simon Kent from Christleton Parish Council who greatly impressed me with his understanding of traffic problems in Christleton. This started years ago and has worsened each year. I think that the audience accepted his findings that there was no one magic solution and how problems were sometimes caused by happenings in the surrounding areas and not just in the village. I lost count of how many times the words 'rat run' were used. The village being used as a rat run did exist before the A41 hole but has been greatly exacerbated by the road collapse. To an extent that there is now a risk to life and limb as cars mount the pavements in Village Road and a feeling of revulsion of how we are being used by speeding motorists. The fear is that that those who have started to use this rat run since the traffic lights on the A41 will continue to use it after the road is back to normal on 14th October. That is the anticipated date which was announced at the meeting when the repairs will be completed.

One announcement by Simon Kent which interested me was a proposal to make Rowton Bridge one way for traffic leaving the village. This will have to be looked into but seems to offer the closure of one of the rat run entries into Christleton. The impact to the introduction of the 20mph speed limited is to be reviewed by the Highways Department in November. We were assured that whatever is decided as the best way forward by Christleton Parish Council will be put to a referendum. It is a fact that Christleton does not have enough parking space. Mr. Kent made a number of suggestions to tackle this problem including another toast rack in Quarry Lane. . At this point my mind went back to the first item on the agenda, the development of the car park at Christleton Hall. Before I could get the microphone which by now was in high demand Roger Croston after asking a number of questions finished with a suggestion that the car park at Christleton Hall could carry on its life as a village car park. Problem solved. This did not lead to much discussion and was dismissed on the grounds that people would not be prepared to walk that far into the village. I wonder.

The meeting wound down with some words from Counsellor Stuart Parker and a member of the Cheshire Police Constabulary. Ending with words from Chris Matheson MP who reminded us again to fight for the protection of village life. But I noticed that this was quickly followed with a comment that we do need new housing.

Did this meeting fill me with elation? Yes it did because I was proud that the residents of Christleton turned out in such great numbers and tried to make themselves heard. No it did not because I fear that it is the beginning of the end of Christleton as I have known it for the past 40 years. I can imagine there being programmes on television in many years to come presented by someone who is not yet born. It will be all about the demise of English village life in the early 21st century. Just as we can look at old photographs, many of them being on this website, of Christleton how it used to look years ago, they will look at images of Christleton as it is now. Will there be the same feeling of nostalgia? I do not know. Will we be blamed for not fighting hard enough to retain village life? I do not know. I just have this fear that Christleton is doomed by the prospect of urban sprawl and we may not be able to halt it. Time will tell but I do try to remain optimistic for a happy ending.


GO BACK