Christleton Village History Group
Christleton Village Voices
Remembering our Forgotten Heroes 1914-18
John Droughton / John Ellison
Commemorated on War Memorial and Church Memorial at St James' and Christleton Institute


John Droughton / John Ellison
19th Battalion (Duke of Cambridge's Own) Middlesex Regiment
26 November 1917. Age 44 years.

Savona Town Cemetery Italy. B5
(Here there are 85 Commonwealth burials all but two casualties of the sinking of the "Transylvania") The Cunard liner was carrying troops when it was torpedoed by U Boat 63 in May 1917.

John is the son of Joseph and Catherine Droughton of Rowton, and their address on the 1911 Census is Whitchurch Road. There were 8 children, six still alive and they were originally from Ireland. Jerome his brother served in the Cheshire Regiment and died in 1957 in Runcorn. His father Joseph was a gardener, but was appointed Special Constable to oversee Rowton during the war.

The mystery of John Droughton or Ellison comes about because he could not be found serving the Middlesex Regt. as Droughton, but a man born in Cheshire with the same Army Number PW/2491 is also recorded as being John Ellison from Inverkeithing, Fife, in Scotland. He enlisted at Dunfermline and died on 26th November 1917. Apart from the name change, why is he buried in a cemetery in Savona, where everyone else, bar one, perished when the S S Transylvania was sunk by German U Boat 63 on May 4th 1917 in the Gulf of Genoa. All the bodies that were recovered were buried 2 days later at Savona Town Cemetery. The two exceptions are John Ellison in November 1917 and a seaman in 1919.

Savona Town Cemetery is in the north west of Italy near the French border. He served with the Public Works Battalion of the Middlesex Regt. Which, perhaps explains why, he was serving at such a relatively advanced age, 44 when he died on the 26th November 1917. It is possible that he was on the Transylvania when it went down, and died later, but is more likely that he perished when the 19th Battalion Middlesex Regt was sent to Italy in November 1917. The Battalion was near Verona on 21st November and engaged on the front line near Treviso, but that's on the other side of Italy not far from Venice. So, why was he buried in Savona? I guess it will always remain a mystery. His Memorial Certificate at the Commonwealth Graves Commission says he is J Ellison, son of Joseph and Catherine Droughton. However on all memorials in the village he is recorded as John Droughton.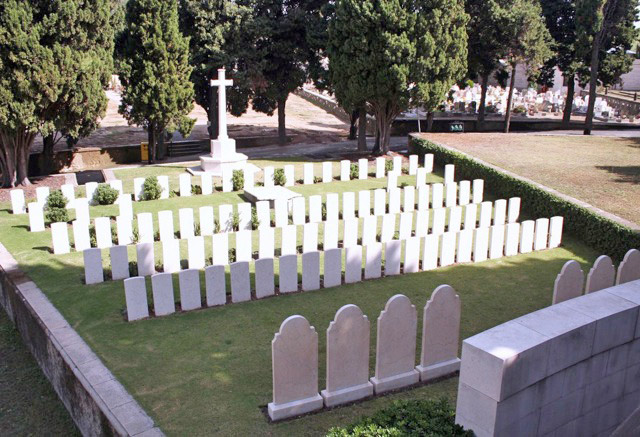 Research

Tony Watkins
Susan Tall
David Cummings