Christleton Village History Group
Christleton Great War Voices
Robert Andrew Scott Macfie was educated at Cambridge, Edinburgh and Gottingen Universities and was a member of a prominent sugar refining family in Liverpool, which his family had operated since 1788. He was the son of John William Macfie and Helen Wahab, and had nine sibblings;

Janet Cowan, Caroline Easton, Charles Wahab, Helen Charlotte, John William, Mary, Letitia Stuart, Alison Bland, and Marion Sheila Scott Macfie.

Robert Andrew was clearly a very interesting character, and we learn so much about him from National Archives, through his writings, and from stories gleaned on the internet.

It seems that he spent a short time abroad serving in the army, but returned to Liverpool to become one of the first members of the distinguished University Club. His association with the University Club brought him into contact with a group of brilliant scholars, several of whom were keen Gypsiologists. Robert became fascinated by the lives these Roma/Gypsies lived, and in 1907, John Sampson and David MacRitchie persuaded Robert to revive the Gypsy Lore Society, which had been defunct for 14years. The letter books held by the Gypsy Lore Society show the commitment and persuasive talent for friendship that Robert brought to the cause, and he remained the inspiration and driving force behind the research and published material of the Society until his death in 1935.

He became one of England's leading authorities on Roma/Gypsies and their language, recording vast quantities of dialect, folk tales and songs from various groups he met in Britain, including the Lovari or "German" Gypsies who visited England in 1906, and the "Coppersmith Gypsies" who came to the country in 1911, and stayed in the Liverpool area. Robert wrote an account in "Gyspy Coppersmiths in Liverpool and Birkenhead" in 1913, and he became godfather to one of the children, born in the drill hall in Birkenhead.

In the summer of 1913 he travelled to Bulgaria in the company of a band of Gypsy Horse dealers, an adventure he wrote up as "With Gypsies in Bulgaria".

He was a volunteer pre war, and at the outbreak of war joined the Liverpool Scottish, a Battalion of the Kings Liverpool Regiment. He enrolled as a Private but soon rose to the rank of Regimental Quarter Master Sergeant. In January 1917 he was awarded the D.C.M *ref1

Robert Andrew Scott Macfie was seen to be ideal officer material, but he rejected many offers of a commission. He was a prolific letter writer, and there is a large collection of letters written to family and friends during the war, many held in the Liverpool Scottish Museum, and it's reported that he also has an archive at the Imperial War Museum.

Liverpool Library also has some material and further research is underway into these items.

There are references to him in several books including that about Double Victoria Cross award winner from Liverpool, Noel St Chavasse, written by Ann Clayton.

In a letter to C.Q.M.S. Scott Macfie, Chavasse writes;
"The canteen flourishes in one of the dugouts and we sell about 3-500francs worth per day, and we have a working basis of 1200francs. When we went to the Somme we only had 200. So I have got all the lost money back again. Now we hope to pay for cocoa and whist drives out of the profit".

In another reference Noel Chavasse received many letters after the award of his Victoria Cross, and replied to one received from Scott Macfie.

"I am sorry to be so late in answering your very kind letter, but I have been a bit overwhelmed. Whatever my feelings may be about deserving the decoration, I must say that your letter and several others that I received from some members of the old Battalion did do my heart good, and I shall try hard to deserve them.

There is also a poignant section about Robert in the book "Bravest of Hearts" by Hal Giblin.

In one letter after the terrible events of the Battle of Hooge, which nearly annihilated the Liverpool Scottish, he wrote to a friend '.don't imagine that we are gloomy. Perhaps we should be. As a matter of fact the remnant is very fit, singing, talking and joking as if there was nothing melancholy or even serious in the whole world. In the midst of death we are in life'.

Yet by 1918 he wrote to a friend 'I'm rather lonely now. All my friends are either dead or invalided home and I don't take to their conscript successors. We lost again very heavily in Cambrai counter- attack. Now there are only 72 of us to wear the 1914 Star ribbon out of more than 1800 who came out in France in 1914'.

The following is an extract from a letter home written to his brother giving his thoughts on the war.

all probability, dead. The want of preparation, the vague orders, the ignorance of the objective & geography, the absurd hast, and in general the horrid bungling were scandalous. After two years of war it seems that our higher commanders are still without common sense. In any well regulated organisation a divisional commander would be shot for incompetence- here another regiment is ordered to attempt the same task in the same muddling way. It was worse than Hooge, much worse- and it is still going on!
However there are two superb accounts of the human qualities of Robert Andrew Scott Macfie in the book "Liverpool Scottish 1900-1919" by A M Gilchrist, which give us a great insight into his personality and imagination, and his influence on the officers and men of the Liverpool Scottish Regiment, particularly E Company.

Gilchrist writes "One unique distinction on the "Q" side, the Liverpool Scottish hold.
R A Scott Macfie was certainly the only Quartermaster Serjeant in the British Army to compile and publish a practical and comprehensive Army Cook Book. It was entitled" Things that every cook should know" and contained, in addition to nearly 70 recipes, a wealth of information on such matters as cleanliness, economy and cookhouse routine."
In another chapter when grim events on the battlefield at Ypres were taking place, there is an amazing reference to the remarkable influence that Scott Macfie had on his regiment.
"Then came the digging of the trenches themselves and while the companies are engaged on this laborious task we shall have time to say something of another matter that helped to make this period of the Battalion's History remarkable".

"C.Q.M.S Scott Macfie suggested that as the Scottish would probably spend some time at Zudausques, it might be worth while to open a Beer Garden which should be the centre of all the usual recreational activities of the Battalion. His suggestion was immediately adopted, and to make the necessary arrangements a general committee formed with three sub committees, each of one officer and one N.C.O. with one representative from each company to look after the entertainments, games and the canteen.

Scott Macfie went off to St Omer to arrange for the printing of posters and to buy a piano. St Omer did possess a music shop but it was hardly Rushworth and Draper's. There were no pianos in stock, but two were expected in the course of a week or so and might be bought for an exorbitant price. Luckily Quarters (Macfie) was able, by the exercise of considerable tact and persistence, to track down and secure a second hand instrument in quite good condition from a lady music teacher in the town. The capital necessary for the purchase of the piano and all the stores, wet and dry, for the canteen, amounted to 2,000 francs, and the Commanding Officer and Doctor advanced to the existing canteen funds sufficient to bring them up to that figure".

Soon posters appeared at salient points in the village and the men read-



The Horrors of War,
-- the very latest addition.
Beer Garden
-- In M Mesmacques' Pasture

-Attractions-
Beer and other liquids
Music and other noises
Fags and other fuel
Drams and Eisteddfodau
Games and other sports
Sweets and other silencers
Dancing and other frolics
Tinned food and other fodder
Boxing and other combats
Even Soap.
Library, Reading and Writing Rooms
Restaurant, Gymnasium and Music Hall
All in One
Bring Your Own Pots.
By the Blankth Scottish Battalion, the Blanketh Blankety Regiment
Zudausques, June 1917

The site chosen for the Beer Garden was in a little wood. A huge marquee- the library etc. advertised above – was erected on a grassy slope, and before it, in the middle of a clearing, was a concert platform- boxing ring with the piano beside it. For a dressing room the artistes had to be content with a wigwam arrangement of draperies attached to the back of the piano.

The Beer Garden was opened on June 27th. It was a success from the start and became the hub of the Battalion's social life. The subcommittees worked hard to make things go and in the evenings, when digging was over for the day, the men lay on the grass, drank their ale and listened to the soloists or joined in the chorus of old favourites like "Brither Scotts" and "Tipperary" When the Battalion moved unexpectedly on June 30th to a new billeting area at Esquerades, four miles south, the Beer Garden was reopened there and continued to do a thriving trade, with great profit to the funds of the canteen. Special mention must be made of one entertainment held in the Beer Garden, for it was without doubt the most successful the Battalion ever had. The following poster advertised it.

Eisteddfod
To be held in the Beer Garden on
Sunday July 15th 1917
Distinguished Patronage --- Eminent Adjudicators
Contests

1.

Male Voice Choirs

; Choirs from each company- twelve voices in all. Competitors choose their own glee. Marks deducted for "Sweet and Low" and "The Soldiers Farewell"

2.

Imitations of Charlie Chaplin.

Competitors are given permission to let their hair grow.

3.

Whistling Solos

. Indents for bird seed should be submitted to the Q.M.

4.

Recitations

. As there is plenty of beer available the services of "Gunga Din" are not required.

5.

Original Verses

. In "Limerick" or other form. May or may not- be read aloud. To be sent anonymously to the Secretary, Entertainment Committee, at the Orderly Room, on or before July 13th. Prizewinners must acknowledge their bantlings in public or lose their prizes.

6.

Pianoforte Solos

. Operatic excerpts. Competitors should reonnoitre the piano before the attack for silent keys.

7.

Female Impersonations

. Don't raid the clothes lines. Costumes will be provided. Eve, even with foliage, is not eligible -- that is, Adam's wife; the "Tatler's" Eve would be welcome.

8.

Mouth Organ Contest

. Three Scottish Melodies

9.

Comic Interludes

; Anything at all that is really funny. Warblers, Barnstormers, Troubadour, Whistler, Mountebanks, Spring Poets, Contortionists, Wine Bibbers, Publicans and Sinners. Now is your chance.
To conform with Brigade arrangements, the Eisteddfod took place on Saturday 14 July, and not as stated on the poster. There was no lack of entries for the various events and there was much excellent fooling. The villagers turned up in force to see the fun and the ladies amongst them who had given the free run of their wardrobes to the female impersonators must have been considerable astonished at the originality displayed by some of the competitors in their ideas of the way to put on the more intimate garments. The Limerick Competition was particularly popular as it gave the poets a chance to be both scandalous and insubordinate without laying themselves open to uncomfortable consequences. Perhaps it is as well that the only Limerick which has survived is that written by Scott Macfie himself as a model for those with a lesser knowledge of scansion and rhyme.

Our Chief is a Colonel called Davidson,
Who asked "Here's a franc- if I gave it, son,
"Would you squander the treasure
On women and pleasure
Or would you be wiser and save it, son?"

Head Office
rowton,chester
An extract taken from "Christleton" The History of a Cheshire Village. Published in 1979


John William Macfie J P was an occupant of Rowton Hall, and Head of a Liverpool sugar firm taken over by Tate & Lyle. It is said that his batman escorted him to the canal for a daily dip before catching the train to Liverpool. There is also the tale that the Macfies experimented mixing molasses with cement to build their estate walls, and that, during darkness, villagers purloined treacle from the barrels.

Although we don't have precise dates, there are records that the Macfie family lived at Rowton Hall, in Rowton a township of the village of Christleton near Chester and Robert's sister Sheila was an active campaigner for the war effort as reported in the Parish Magazines of the period.

January 1915
Miss Macfie has sent a great list of material support for the Cheshire's.
92 pairs of socks, 44 belts, 37 mufflers, 19 pairs mittens, 6 shirts, 9 pairs cuffs. She also organised the Rowton working party, and 51 items of various sorts, slippers, bandages, socks and jackets were sent to the Infirmary.

February 1915
Miss Macfie has dispatched 21 mufflers, 14 pairs of socks, 12 belts, 4 helmets, 3 pairs of gloves, 15 pairs of mittens.

March 1915
Miss S Macfie has successfully passed a St. John Ambulance Examination.

January 1917
The Rector reports that C.Q.M.S Robert Andrew Scot Macfie was awarded the D.C.M *ref1
After the war we learn that Robert returned to work in the family business, and on retirement went to live at Hawes on the Yorkshire Moors. On his death he bequeathed his collection of works about Romany and Gypsy Lore to the Gypsy Lore Society.
Head Office
hawes,yorkshire
Further references found about Robert include;

Anecdotes about him and extracts from his many letters are in Helen McCartney's 'Citizen Soldiers: The Liverpool Territorials in the First World War'.

Other published material includes.
(1935) F.G. Ackerley '
Friend of all the world: a memoir of Robert Andrew Scott Macfie
' in Journal of the Gypsy Lore Society (3rd series) XIV (Special number), pp6-43

(1935) H.G. Ward, E.O. Winstedt and Dora Yates '
Bibliographical list of the writings of R A Scott Macfie, MM, MA, BSc
' in Journal of the Gypsy Lore Society (3rd series) XIV (Special number)

(1935) Dora Yates A catalogue of the Gypsy books collected by the late Robert Andrew Scott Macfie

(1913) 'Andreas' [R A Scott Macfie]
Gypsy coppersmiths in Liverpool and Birkenhead
Liverpool: Henry Young

(1911) R A Scott Macfie, letter to D M M Bartlett, dated September 13. 1911, in which Macfie describes how he became godfather to Worso's child, born in the drill-hall at Birkenhead. SPEC GLS A 32 196.


Books written or published by Macfie (Recorded in the Imperial war Museum Archives)

a. 84/1368 Michael Gallagher Author

Mac's Sugar House Press Publisher

Robert Andrew Scott Macfie.
500 copies of letters printed privately by Messrs John Richardson & Sons of Liverpool

b. Things that every cook should know.

Robert Andrew Scott Macfie 1918
c.
A Mother of France
1920 A book about WWI. Published in Liverpool.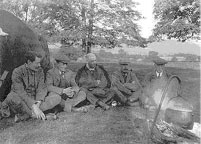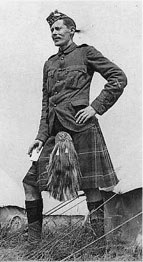 Photographs from the Regiment Record found on the Internet

Research:
David Cummings - Project Leader Christleton Local History Group
Christleton Villages History; Great War Voices Project—1914-
Menus
Robert Andrew Scott Macfie | Christleton