Christleton Village History Group
Remembering our Forgotten Heroes 1914-18
During our research for information about Village heroes from WWI we have come across the grave at St. James' Churchyard of Percy Dobie. This simple flat red sandstone grave gives us the following information about the people buried there.

John Harold Wynne Day b 16/05/1881 - d 20/08/1952
Edith (Bunty) Day wife of the above d 13/09/1959
Percy Dobie Brother of Edith b. 22/12/1888 - d 27/01/1971
Late Royal Engineer & Royal Scottish Fusiliers
Ypres 1915 -16 Arras 1916 -

Ypres and Arras were famous battle sites in WWI and further research has revealed an amazing amount of information about Percy and his sister Amy, the only lady from the Parish we can find to date who served during WWI.
Their home Heathfield House was originally built in 1845 for Thomas Wilcoxin a candle manufacturer, who later sold the property to Mr Samuel Dobie in 1895. The firm "Dobies of Chester
*
" Seed Merchants was well known throughout Britain, symbolising high quality seeds for garden flowers or vegetable plot. They had the nurseries next door for seed trials and development, and stored seed in the
centrally heated barn behind Heathfield House
. They also rented other fields in the area for their business and sold the property in 1941, as Percy Dobie is then listed as living at 122 Vicars Cross Road.


***
In 1970 a large transporter arrived at Heathfield, and horses and a carriage were unloaded by descendants of the Dobie Family, who had arrived to celebrate the centenary of the firm. They dressed up in Victorian Costume, harnessed the horses and drove the carriage into Chester to present the Mayor with a single red rose, named "Deva" developed by Dobies for the occasion. Samuel Dobie died in 1908, but Mrs Dobie lived on at Heathfield for many years and Percy is recorded on (The Lineage of Percy Dobie of Chester)
**
to have had two brothers and five sisters. We pick up the accounts of his war story from the Parish Magazine and reports in the Chester Chronicle.

April 1917. Parish Magazine Report
The Rector GMV Hickey writes "Percy Dobie is reported wounded and missing".

May 1917 Parish Magazine Report
Prisoner of War
The Rector reports the news that "Percy Dobie who was listed as wounded and missing appears to have been the only member of a raiding party to reach the German trenches. There, he was last seen surrounded and fighting desperately with those who overpowered him. He lost an eye and suffered other severe injuries, but is alive and we hope to have him back soon".


Report Chester Chronicle 31st March 1917
2nd Lieutenant Percy Dobie wounded.
2nd Lieutenant Percy Dobie youngest son of the late Mr Samuel Dobie of Manchester & Mrs Dobie Heathfield House near Chester, is reported missing. He was born in Manchester in 1888 and educated at Kings School Chester and Liverpool University. He joined the University detachment of the L F R E in 1909 and was mobilised at the outbreak of war. In March 1915 he was granted a commission in the 1/1 Cheshire Field Company Royal Engineers, and went to Flanders the following June. He took part in the famous Liverpool Scottish attack at Hooge and was mentioned in despatches. Later he transferred to the Royal Scots Fusiliers and returned to the front three months ago.

Report Chester Chronicle April 14th 1917
2nd Lieutenant Percy Dobie
No definite news has been received concerning the fate of 2nd Lieut. Percy Dobie, who was reported wounded and missing on March 22nd. However Miss Dobie has received several letters from brother officers. The writer of one of them states that Lt Dobie was detailed one of four officers with a party of men to carry out a raid on the Hun lines. The raid took place against a strong part of the enemy lines. The other officers did not see 2nd Lieut Dobie after the attack began. "All accounts agree says the writer of the letter" that Percy was wounded in the face. Some of the men mention that they saw him after he had been wounded, making for their own lines, but that story must now be discredited for we should have heard about him by this time"

What appears to be a reliable account is that he managed to get through the Huns wire, and was last seen fighting 3 or four Huns with a rifle and bayonet. That happened to be the last anyone saw of him. You may be rest assured that we have done our best to get the best information possible.
It is almost possible that he has fallen into the hands of the enemy, and there is the hope, and we all hope that it is the case, is that he is wounded. I wish to extend my deepest sympathy in your anxiety and hope that you may soon receive news that Percy is a prisoner of War. That is the best we can hope for. We all miss his presence in the mess very much. He was always bright and cheery. All the officers who took part in the raid have received the highest praise. I personally have heard some of the men who took part describe Percy as a hero, and much of the success of the raid was due to the splendid example set by your brother.

The Major commanding the Battalion writes

He was in command of one of the parties detailed to take part in the attack. He led his men with great gallantry across "No Man's Land" He entered the enemies trench and it was there that he was last seen, wounded about the face, but still fighting three or four Huns single handed. It is quite possible and I hope it may be so, that he is a prisoner of war in German hands. He is greatly missed in the Battalion. He was a very gallant officer and very popular with the Battalion. We are all deeply grieved about what has happened. I wish to offer you my sincere sympathy and to convey to you the sympathy of all the ranks in the Battalion in this time of great anxiety you are all called on to bear.
The Battalion's Chaplain's letter contains similar information but adds;

If the worst has happened, you have at least the comfort of knowing he died heroically, doing his duty like a brave soldier and a true gentleman. He was one of our best officers and we all deeply regret what has happened, but I sincerely hope that your brother is in a German Hospital having his wounds tended and that you will soon hear from him
Chester Chronicle April 21st 1917
A telegram has been received from the British Minister at The Hague that the Dutch Minister at Berlin reports that Lieut. Percy Dobie is a prisoner of war in German hands having been seriously wounded

Education
Percy Dobie was a pupil at King's Chester from September 1899 to April 1904 before going to Liverpool University to study.

Prisoner of War
Percy Dobie was taken prisoner at Arras on 22nd March 1917, and he was wounded in the head; the chin and one eye. In May he was in the military hospital at St Clotilde in Douai and by this point seems to have lost his right eye. He had also been possibly wounded in the back. In July he was at Mainz but in December an eye witness placed him in a military hospital in Hannover. The following month he was repatriated, arriving in Holland on 2nd January and in England on the 7th January.

The following citation was noted
in the London Gazette in April 1918

London Gazette April 1918.
Royal Scots Fusiliers.
2nd Lieutenant Percy Dobie to be Lieutenant 22nd April 1918.

Engagement to Miss Winnie Bolton

During our research we have discovered that Percy was engaged to be married to Miss Winifred (Winnie) Bolton from Heathfield Road, Wavertree, Liverpool. Although they remained friends we understand that the marriage didn't go ahead due to his disfigurement and the severe injuries he received during his war service. By complete coincidence Miss Bolton was the great aunt of Alf Croston of Christleton.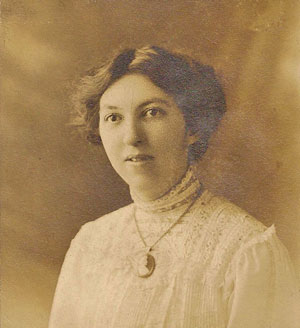 Other information about the family gleaned from
St. James Parish Registers
Marriage. 29/05/1907 Ethel Dobie 20yrs (Father Samuel a seedsman)
to Richard Linnell 30yrs at St James' Christleton
Witness; Amy Dobie
Marriage. 19/01/1912 Harry Alexander & Sarah Elizabeth Dobie

Marriage 15/08/1912 Edith Dobie to John Harold Wynne Day (Edith's father deceased)
Witness Percy Dobie
Marriage 29/04/1941 Amy Dobie 66yrs marries Arthur Steel 66yrs Widower Gentleman
Burial Register.
Grave P22 (Flat red sandstone in Section 4)
John Harold Wynne Day b 16/05/1881 - d 20/08/1952
Edith (Bunty) Day wife of the above d 13/09/1959
Percy Dobie Brother of Edith b. 22/12/1888 - d 27/01/1971
Late Royal Engineer & Royal Scottish Fusiliers
Ypres 1915-16 Arras 1916-

Amy Dobie a Nursing Sister serving in France
During our WWI research in Autumn 2014, we were made aware of an Absent Voters List for Christleton for 1919, and the name Amy Dobie a Nursing Sister of Stamford Heath appears on the list together with many absent serving soldiers from the villages. With the help of fellow researcher Nigel Meyrick we have found the following information about her war service. Amy seems to have made waves by applying for a promotion without the knowledge of her Matron and appears on an internet site for Nurses in WWI called Scarlet Finders. Thanks to this action we now know about her story. She survives the War and is later recorded in the Parish Marriage Registers as marrying a Widower Gentleman, Arthur Steel at St James' Christleton in 1941.

Sister Amy Dobie Queen Alexandra's Imperial Military Nursing Service Reserve (AIM NRS) Stamford Heath 2, No.6 General Hospital

No.6 General Hospital was sited in Rouen, France from November 1915 – April 1919

The ancient French city of Rouen on the Seine has played a significant role in the two World Wars. In 1940 its capture gave the invading German forces a bridgehead across the Seine and consequently areas near the river were bombed and shelled. In the spring of 1944 Allied aircraft completed the destruction that eventually left 45% of the city in ruins.

In the First World War the city was safely behind the lines and became a major logistics centre with numerous base hospitals. Commonwealth camps and hospitals were stationed on the southern outskirts of Rouen. A base supply depot and the 3rd Echelon of General Headquarters were also established in the city.
Almost all of the hospitals at Rouen remained there for the duration of the war. On the champ de courses on the outskirts of Rouen, the British established Nos.5, 6, 9, 10, and 12 General Hospitals, Nos.1, 3, 8, 11, and 12 Stationary Hospitals, No.12 Stat. only worked for a short time there, and then remained, parked, until it moved prior to the Somme in 1916.The Convalescent Depot No.8 General Hospital was to the south of the town, and was, for most of the war, the largest of the Rouen hospitals, but its isolated position away from all other units caused some unrest among the nursing staff, who often felt rather cut off. No.2 British Red Cross Hospital was more central to the town. Two other hospitals were operated within the racetrack. One was a British hospital for wounded PoWs and British prisoners who had self-inflicted wounds and the third was a British colonial hospital. No. 1 Australian General Hospital at also at Rouen

There are two Commonwealth War Grave Cemeteries on the outskirts where burials from the hospitals took place. St. Sever Cemetery, 3081 burials and St. Sever Cemetery Extension, 8656 burials. There are two other CWGC plots in Bois-Guillaume cemetery in the North of the city on the road to Neufchatel with about 300 burials in each

No.6 General Hospital, together with No.5 and No.9, were south of the racecourse (which is still there) and to the east of the current Avenue des Canadiens, but now completely under modern development. So no trace of the hospital which was tented/hutted, and unfortunately there are no surviving records for the hospital.
The National Archives at Kew list: Lines of Communication Troops: 6 General Hospital WO 95/4077 which is the War Diary for this hospital from Aug 1914 to Dec 1919.

From Scarlet Finders dated
10th Jan 1915 - Rouen
After lunch I went to No. 5, 6 and 9 General Hospitals, all under canvas until the huts are completed, many of which will soon be ready for occupation. These hospitals are in a good position near pine woods and some of the tents have been struck in the middle of an apple orchard, which will be particularly beautiful in Spring. They are all boarded – heated by stoves and lighted by lamps. They are all well managed and everything going smoothly, No.6 being particularly good, having excellent arrangements for the comfort of the men and the Nursing Sisters. Everywhere the Matrons are well supplied with Red Cross things for the benefit of the patients.


11th April 1916 - Abbeville
Wired DMS 3rd Army asking if ready for completion of Nursing Staff for 43 Casualty Clearing Station – replied yes. Orders sent for remaining 3. Staff supplied for 3 Casualty Clearing Station. Sister Cockshott TFNS leave arranged. Circulars re leave – 2 trained and 2 untrained, instead of 3 as before to all areas. Circular re supplying discs to all new arrivals circulated. Circulars re instructions sent to Sisters in Charge of new Casualty Clearing Stations. Staff Nurse Robertson returned from sick leave, sent to 18 General Hospital, Camiers. Miss Morris TFNS, 14 General Hospital, called at office.

Letter from WO re Miss Dobie QAIMNSR, who applied to Matron-in-Chief, War Office about her promotion without any reference either to her Matron or this office. DMS saw me with reference to office expansion, in consequence of the increased work, and is considering moving my office to where the others, Miss Barbier and the VADs are working. I pointed out that we too would be very cramped, but that of course I would arrange whatever he wished. The matter is to be considered before anything final is set






Percy with Elizabeth, his sister Nellie's daughter
References

*
The Company are still trading as Seed Merchants in 2015, as "Dobies of Devon"

**
This list is recorded on a transcript of a photocopy obtained by the Dobie Clan of North America.

***
From "Littleton, A Brief History" written by Peter H McCready


Further acknowledgement for the help with this article to

Nigel Meyrick Researcher Chester
Seb Neal King's School Chester
Alf and Margaret Croston Christleton


David Cummings
January 2015

Percy Dobie | Christleton