Christleton Village History Group
Christleton Village Voices
Remembering our Forgotten Heroes 1914-18
Wyreside in Lancashire, formerly The Rectory Christleton.
A Cpy 110th Anti- Aircraft Bty. Royal Field Artillery
He died at Branhoek near Ypres

Brandhoek Military Cemetery, Ypres, West Flanders
War Memorial & Church Memorial at St James' and Christleton Institute
A Memorial Service held at St James' July 1917
Only the day before yesterday I commended him for having very gallantly engaged an enemy aircraft
Laurence H. Garnett's Major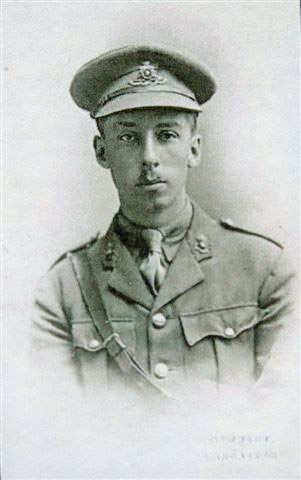 Laurence was the son of the late Rector Lionel and Mrs Garnett , born in Christleton, and had lived at the Rectory in Village Road. He was a Lieutenant in A Company. Royal Field Artillery and had settled in Canada when war was declared, but soon came back like thousands of others to offer himself to service.

Rector Hickey said at his Memorial service " How readily our lads in the colonies threw away everything to return to help their homeland. His brother Claude a Captain in the Royal Garrison Artillery died in the Battle at Kut el Amara in Iraq in December 1915. Lawrence was highly commended for his war service, and was only 25 when he died in June 1917 at Brandhoek near Ypres in Belgium in the battle of Passchendaele. He was killed on the first day of the battle of Messines Ridge, which lasted for seven days. Despite strong German attacks the offensive was generally to have been a British tactical success.

Unusually letters survive to tell us about his last days.


His Major writes to Mrs Garnett about the death of his best friend;

"Only the day before yesterday I commended him for having very gallantly engaged an enemy aircraft, whilst his own guns were under heavy fire, and then for extricating their guns from a very dangerous position. Your son's cheerful mannered laugh relieved us all, and made light of what might have been a very dangerous situation.

We buried him yesterday in a little cemetery beside a dressing station at a village called Brandhoek, on the main road about five miles west of Ypres.


His brother Lieutenant describes what actually happened;

"We were sleeping in an old barn which always seemed a quiet spot. In the morning at about 3.45am we were getting up as shelling had started just a short distance away. I left the barn to get the guns ready for action a few yards away. Shortly afterwards, a stray shell flew too close to our quarters. I reached poor Lawrence almost immediately and I knew at once that his death was quick and painless. He looked very peaceful as if asleep!

Laurence was just 25 his brother
Claude
31. Many of their young friends from the village went to war with them, and served in the same regiments.